Listen to our live stream

Click the play button below
or Click here to open the player in a new window
or if you have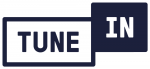 on your device, search for Ridgeway Radio
On radio channel 1 of the Hospedia bedside unit in Dorset County Hospital and Online (see above). Now and upcoming…
12:20pm-
Quiz Time
followed by Music Extra
1:00pm-
The A to Z of Pop
with Richard Smith featuring artists or tracks beginning with a specific letter.
2:00pm-
Graham and June in the afternoon
Graham & June's blend of music and chat.
Full programme schedule
here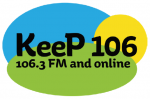 The new community radio station from Dorchester will soon be launching on 28th July and eventually Ridgeway Radio will be relaying some of it's programmes to our listeners in Dorset County Hospital.
If you would like to be involved with KeeP 106 there are many ways to do so. We need volunteers including presenters, technicians, production assistants, fundraisers and local event reporters.
For more information about KeeP 106 follow these links:
If you are interested in sponsoring the new community radio station for Dorchester, or would like to be involved with the station in some way, please use
this contact form
Ridgeway Radio is proud to be a member of the
For up to date visitor information go to the Dorset County Hospital website. Click the logo…