Latest News

Ridgeway Magazine 11th January 2017

The latest edition features:

The right and wrong ways to write a will
Getting married at sea
Careers aboard cruise liners
New Year's Resolutions – did you make any and will you keep them?

Click the Play button to listen (also available on our Listen page)
Ridgeway Magazine 11th Jan 2017

..read more..
Ridgeway visits the Scout Post HQ

Dorchester Scout Post Co-ordinator, Debbie Thomas, tells us what we need to know about their amazing Christmas postal service. Operative from 5th to 19th December, 25p per card in the Yellow Posting Boxes that can be found in a dozen locations in Dorchester and Poundbury, a further 12 in the Bridport area and in over 20 villages around Dorchester. It helps if post codes can be given particularly with addresses in new developments such as Poundbury.

Click Play to listen to the interview.

Ridgeway helps Children In Need 2016

Jim Davis has presented the Children in Need programme for listeners to Dorset County Hospital's own radio station, Ridgeway Radio, for several years. Past guests have included Pudsey Bear, who was otherwise engaged this year, so ..read more..
---
You may also like…
---
Ridgeway Radio is proud to be a member of the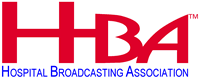 www.hbauk.com for more information about hospital radio in the UK
---
For up to date visitor information go to the Dorset County Hospital website. Click the logo.

Ridgeway Today
On radio channel 1 of the Hospedia bedside unit in Dorset County Hospital. Now and upcoming…
8:00pm-
Tuesday Evening With…
Neil Baker.
8pm Requests and dedications
8.30pm Neil's Music Show
10:00pm-
Ridgeway Nocturne
easy listening music for the late evening
1:00am-
Overnight with Ridgeway Radio
keeping you company
5:00am-
Ridgeway Dawning
The dawn chorus and gentle music to ease you in to the new day
6:00am-
BBC Radio Solent
6.00 The Early Show from Southampton
6.30 Breakfast In Dorset from Dorchester
9.00 The Big Conversation from Southampton
If it not possible to broadcast one of the listed programmes we offer Ridgeway Sound Mix, good talk, good music, good company.
Full programme schedule here
---