At the Presentation Ceremony for the prestigious BT Hospital Radio Awards held at the Britannia Adelphi Hotel in Liverpool on Saturday 15th April 2000, Ridgeway Radio were placed 9th, out of 250 entries, in the main 'Station Of The Year' Category, receiving a certificate and £250. By coincidence, the Station also came 9th in the 'Non-Music' category in which our entry featured, amongst other things, an interview with Hugh Scully of Antiques Roadshow fame.
Congratulations to everyone concerned with our entries –
especially Amanda and Andy whose hard work and dedication made it all possible.
 From the DORSET ECHO 19th April 2000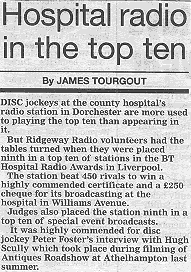 This excellent news follows the Station's triumph in 1999 when we won first prize in the 'Special Event' category for our coverage of the Queen's visit to the hospital. Read more about that here