A farming couple from Dorchester have come up with a colourful way to raise money for the Special Care Baby Unit which helped their premature son, as he celebrates his18th birthday.
Organisers Richard and Hazel Hoskin have created a 20 acre Dorset Sunflower Trail on their land at Maiden Castle Farm, which is nestled at the foot of historic Maiden Castle in the county town of Dorchester.
With just three weeks until the highly anticipated launch, the trail is expected to be ready by the week of 9th August – but sooner if glorious sun keeps shining.
They are raising funds for Dorset County Hospital (DCH) and the Special Care Baby Unit (SCBU) with half the profits going directly to these charities.
Hazel said "This is such an important event to their family. Our son Thomas was born three months early and the care and support we received is something that we've never forgotten. Not only will the trail hopefully bring joy to families and nature lovers this summer, but it will raise important funds for these vital local charities.
"The 20-acre trail was planted on 1st May, but due to the wet and challenging growing season the sunflowers have taken slightly longer than their usual 90 day growing period.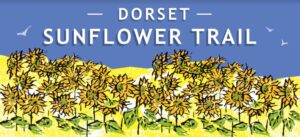 From Saturday 17 July, tickets can be booked online for timed slots to enable social distancing and space to enjoy the flowers. People starting the trail will get a map on entrance complete with a quiz challenge as you navigate the trail.
The main trail will take an estimated 40-minutes but there will also be a shorter trail with people with accessibility requirements.
Hazel added: "We have tried our hardest to accommodate everyone, but please remember that the Sunflower Trail is just a farm field, therefore it can be very bumpy and uneven underfoot. If you are planning a visit with family and friends with any disability and have any concerns please call to discuss them."
The attraction will include a photograph competition, opportunities for sundowner sessions in the golden fields and more to be announced.
People will be able to bring a picnic and have the opportunity of dining next to one of the largest and most complex Iron Age hillforts in Europe.
The event will host a Café on Wheels – a pop-up converted horse box – which will serve a variety of hot and cold drinks and cakes. There will also be local Ice Cream on sale.
The English Heritage hillfort is the size of 50 football pitches and its huge ramparts, mostly built in 1st century BC, once protected hundreds of residents. Excavations have revealed Neolithic enclosure from about 3500 BC and a Roman temple built in4th Century AD.
Following your visit to the trail, the Maiden Castle hillfort access is free and maintained by English Heritage. Further exploration is suggested for a different viewpoint of the sunflowers from the top of the ancient settlement and also panoramic views of the Dorset countryside.
The Hoskin Family have been inviting schools and children to the farm for years to educate children about farm life and agriculture. In addition, over the last few years, the farm has hosted Farmer Time where schools have been virtually visiting the farm from all over the UK including Manchester and London. As part of the educational efforts on the family-run farm, students have always been part of the process including veterinary students, agriculture and local apprenticeships and educational centres.
To book tickets follow us on Facebook https://www.facebook.com/MaidenCastleFarm