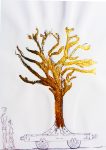 After an overwhelmingly high response to our organ donation artwork brief by over 100 artists, we are delighted to have awarded the commission to Andy Kirkby, a Dorchester -based sculptor whose portfolio includes many exciting sculpture trails and projects across Dorset and beyond.
Arts in Hospital has been working closely with The Organ Donation Team to rejuvenate a courtyard with a striking new artwork that celebrates the gift of organ donation and sparks significant conversations about subject. Andy has come up with a sensitive but impressive design using a venerable Dorset oak tree and a Japanese tradition of the loving repair of broken ceramics.
"I am intending to re-construct an oak tree by splicing and scarf jointing the old branches back into place. This re-constructive process will be undertaken in the manner of the Japanese art of 'Kintsugi' which can be translated as 'the art of precious scars'.  In ancient Japan, when a ceramic cup or bowl fell and broke, the pieces would be carefully re-bonded using tree resin and the joints embellished with gold leaf. The reformed object became functional again, it's scars giving the object  greater importance and meaning; the branches of the donor tree with be gilded with gold to reflect this concept. The oak tree has been kindly donated by the Weld estate, Lulworth, where it has lain dormant in a Dorset wood for some sixty years."
Staff, patients and the general public are cordially invited to meet the Artist and discover more about his creative process and designs for the rejuvenating the courtyard.
Andy Kirkby will be giving a public presentation from 15:30 to 16:30 in the Lecture Theatre, Education Centre, Dorset County Hospital, which is open to all from the organ donation community, staff and public. This will be introduced by Andy Ball, Anaesthetist and lead member of the Organ Donation Team at DCH to explain the importance of Organ Donation and the gift of life that it can bring. This is a unique opportunity to meet the artist, learn about art in a health care environment and see first-hand what goes into creating a public artwork. Andy will also be in Damers Restaurant in Dorchester County Hospital between 12:30 and 13:30 for informal discussions.
Discover more about Andy Kirkby's work here: www.andykirkby.com
Contact Andy Kirkby for images andrewkirkby@sky.com
For more information contact Alex Murdin, Arts Manager, Arts in Hospital, Dorset County Hospital alex.murdin@dchft.nhs.uk 07885409750 or Susie Palmer, Communications Manager, Susie.Palmer@dchft.nhs.uk