It was an evening of glam and glitter as Dorset County Hospital staff and volunteers were recognised for their hard work and dedication at the 2019 GEM and Long Service Awards. The awards are presented annually to recognise the people who have excelled in the Trust values – Going the Extra Mile – and to those who have achieved 25 years of NHS service.
Colleagues, patients and relatives were asked to nominate hospital staff and volunteers for a number of awards to honour those who have gone over and above what is expected to make a difference to people's lives.
The evening was held at Kingston Maurward and the winners received their well-deserved awards from Trust Chairman, Mark Addison and Chief Executive, Patricia Miller, alongside other executive directors. Guests were also treated to a special performance from the DCH Players.
Trust Chairman Mark Addison said: "The awards are the most important event in the hospital's annual calendar. They are an opportunity to thank everybody who is involved in the Trust for the huge amount of work they do and the way our staff and volunteers go the extra mile for patients and their families. For once we can put aside the enormous unprecedented pressures the hospital has been working under over the last year. Demand has gone up in ways which nobody could have predicted. But the dedicated and determined hard work of everyone at DCH has seen us through.
"The night is a chance to recognise the brilliant work which goes on day in day out across the hospital, with our staff and volunteers offering outstanding care to people in ways which matter to them. For us, that more than a slogan, it genuinely is a way of life."
Click here for award recipients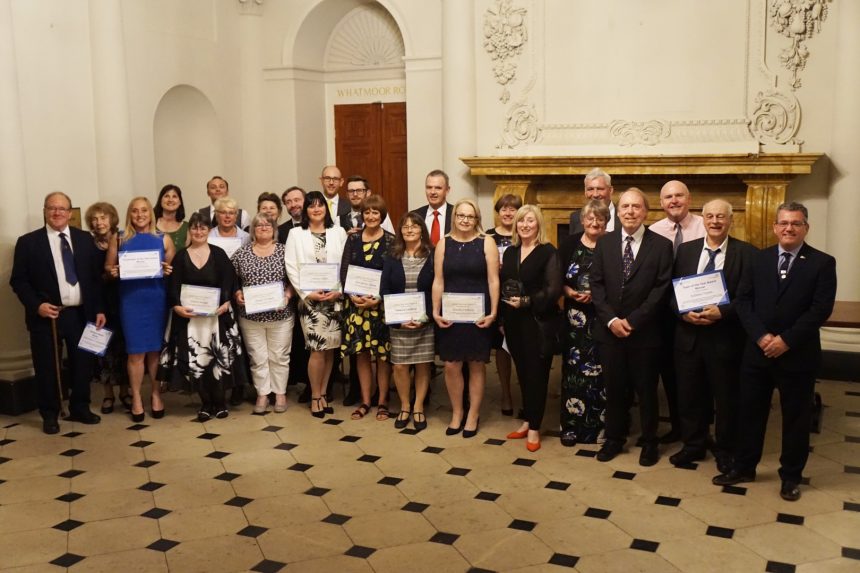 Chairman's Award
Winner: Dr David Markham
Runners-up: Laura Starr and Lin Smith
Leadership Award
Winner: Lynn Paterson, Sister (Moreton Ward)
Runners-up: Sue O'Kerwin and Abi Orchard
Patient Safety Award
Winner: Dr Duncan Chambler and Mr Ben Stubbs
Runners-up: – Jo Hartley and Supervisory Night Sisters
Innovation Award
Winner: Eleanor Jeram and Susan Farmer (Information)
Runners-up: ED Nurse Practitioners (Majors) and X-Ray E-Requesting Project Team
Lifetime Achievement Award
Winner: Sue Cordner, Staff Nurse
Runners-up: Gail Volney and Barbara Pavey
Student/Apprentice of the Year Award
Winner: Angie Faulkner, Assistant Audiologist
Runners-up: Sophie McCaffrey and Ellie Jowett
Volunteer Award
Winner: Patient Research Ambassadors
Runners-up: Barbara Purnell and Sue Mason
Team of the Year Award
Winner: Estates
Runners-up: Cardiac Cath Lab and Histopathology
Charity Fundraiser of the Year Award
Winner: DCH Players
Runners-up: Catherine Abery-Williams and Saleem Taijbee
Long Service Awards Recipients
Alex Hillcox-Smith
Alison Fuszard
Alison Burge
Amanda Loader
Andrea Churchill
Annette Saunders
Brian Stalker
Carol Gilbert
Dawn Johnston
Emma Howard
Esme Hastie
Fiona Wotherspoon
Fiona Chalk
Georgina Jessop
Gerrard Phillips
Hazel Thomas
Helen White
Helen Dell
Jacqueline Butler
Janice Robbins
Kathryn Stubbs
Lisa Keegan
Lisa Cosh
Mandy Ford
Nicola Perkins
Peter Taylor
Shelly Haydock
Sue Reed
Teresa Penny
Tracy Allen
Tracy Drage
Vanessa Coleberd
Victoria Lock
Victoria Whitehall